Make a reservation
GARANCE NEJNIŽŠÍCH CEN
Hotel
Hotel Maximus Resort Brno
Hotel Maximus Resort
Welcome to the Maximus Hotel Resort – one of the first hotels in the Czech Republic built according to the principles of the eastern philosophy Feng Shui, which guarantees your wellbeing from the very first step in our hotel. Its unique location and positive energy makes the Maximus Hotel Resort a much sought-after place not only for relaxing and therapeutic stays, but also for business clientele. We wish you many a blissful moment here.
ENJOY MAXIMUS LIFE
Gift packages
YOU WILL DEFINITELY FIND YOUR CHOICE IN OUR GIFT PACKAGES!
Restaurant
Restaurant Portum / MAXIMUS RESORT BRNO
Restaurant Portum
The cuisine that we prepare at Portum – our hotel restaurant in the Maximus Resort Hotel on the shores of the Brno dam – can be characterized as traditionally Czech with modern influences. The menu is regularly updated and contains seasonal offers. It includes meals of exceptional quality such as sous vide duck breast, bolognese ragú from lentil, the traditional beef leg in cream sauce, ball tip steak and many more.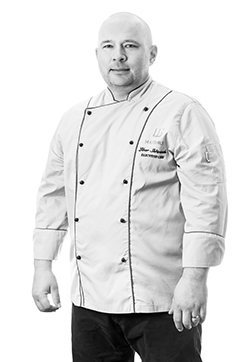 Libor Skřivánek
Executive chef
OUR EXECUTIVE CHEF RECOMMENDS
Would you like to receive lunch menu by e-mail?
this page:8925
parent page:0
form id:5

Up