SHUTTLE BUS
Let us give you a ride! We will take you from the stop Pod Mniší horou to the hotel for free on our shuttle bus.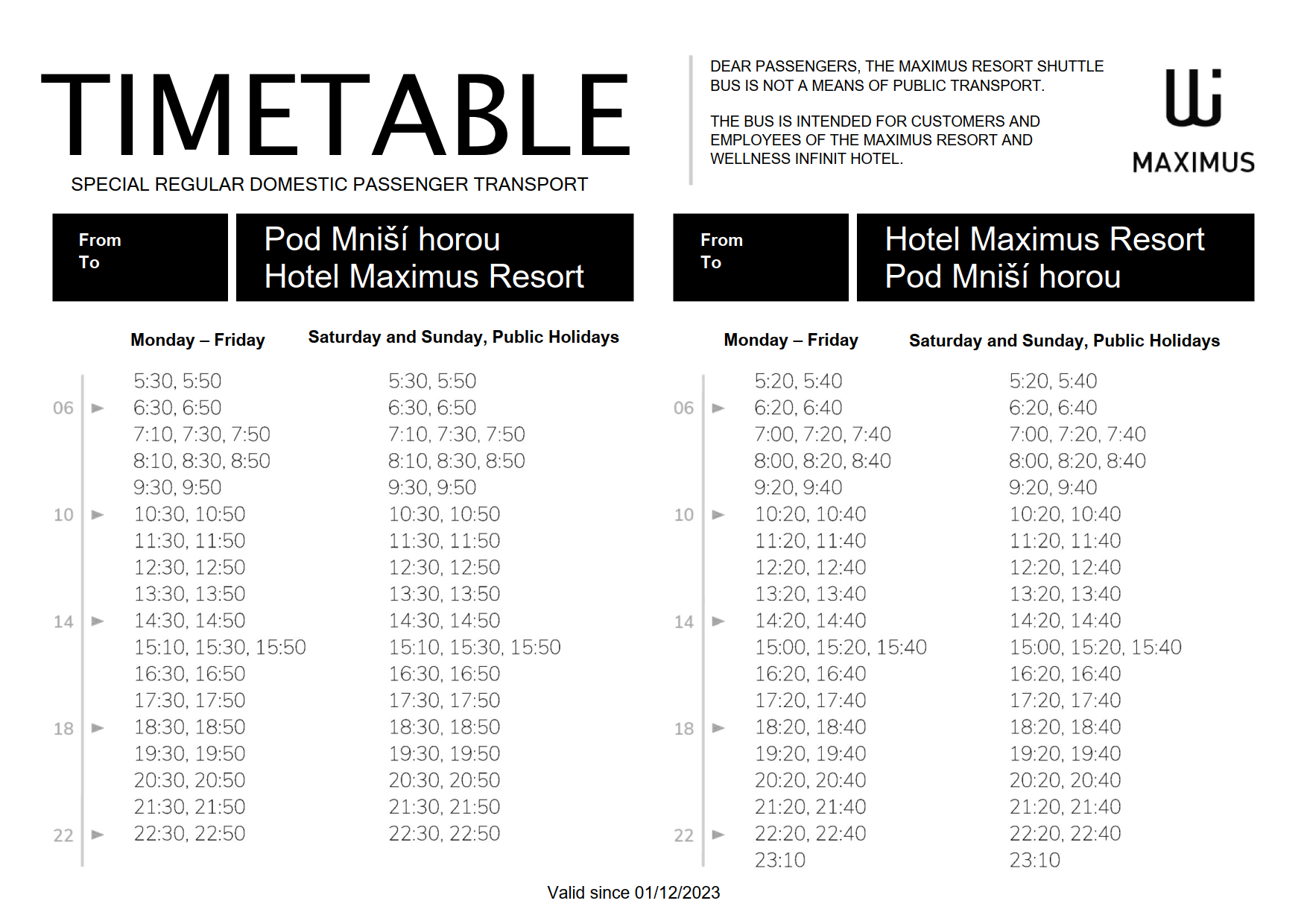 PUBLIC TRANSPORT
Search for connections and timetables of trams number 1, 3 and 10, bus 54 and night bus number N98 to the stop Pod Mniší horou and back on-line here.
DRIVING DIRECTIONS
Go through the tunnel and follow the route to the town of Svitavy.
Turn right after 1.5 km and follow the directions to the town district of Bystrc and the Brno Dam.
You will reach an intersection with traffic lights after 3 km (with a Uni Hobby DIY store to your right).
You can continue straight, or turn right (you will get to the hotel either way).
GPS COORDINATES
49°14'36.197″N;  16°30'56.295″E
VIA THE DISTRICT OF KNÍNIČKY
(PREFERRED OPTION IN WINTER)
TO THE RIGHT AT THE INTERSECTION
Turn left immediately after the intersection and follow the main road past the Uni Hobby DIY en route to Kníničky
Drive through the village of Kníničky and turn left at the end of it, as though en route to the village of Rozdrojovice.
Turn left after 1 km (after you pass the Atlantis Hotel).
When you reach an intersection, turn left; the hotel and entrance to its parking lot will be to your left.
VIA THE PORT AT THE BRNO DAM
STRAIGHT AT THE INTERSECTION
After 200 meters, on top of a hill, turn right and continue straight towards the port (Přístaviště).
Cross the dam and continue (the water is to your left) for some 1.5 km along Hrázní street. The Maximus Resort Hotel should be to your right, while the tennis clubhouse of the Tennis Club Maximus will be to your left.