PORTUM AND MAXIMUS RESTAURANTS
Make your day in our Portum and Maximus restaurants, the place for a truly gourmet experience. We offer c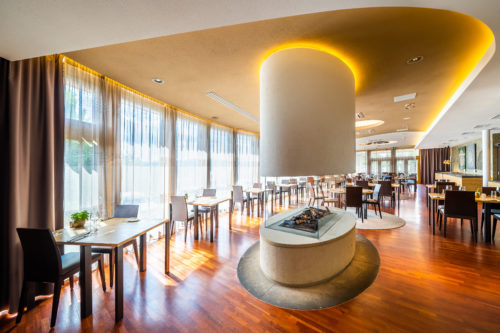 ontemporary Czech as well as international cuisine with top-quality chefs and friendly service.
Our cooks are supervised by Libor Skřivánek who carefully selects fresh produce, and together they translate their many years of experience and creativity into preparing your meal.
Besides a steady menu, you can enjoy exceptional seasonal offerings, or a lunch menu intended as a lunch with your friends and business partners.
Our confectioners will prepare fine home-made desserts for you and bake fresh home-made buns that we serve with excellent Naber coffee. Those of you who love wine can consult our staff regarding our selection of great Moravian and foreign wines that will certainly satisfy even the most demanding guests.
From spring until autumn our Portum restaurant offers a convenient roofed seating area on the outdoor terrace where you can enjoy our delicacies and fresh air.
Why the name Portum?
Portum comes from the Latin word for "harbour" and refers to the unique hotel site by the Brno Water Reservoir.
Opening hours
The restaurant is open every day from 11.00 AM until 11.00 PM (and from 12.00 AM until 11.00 PM at weekends).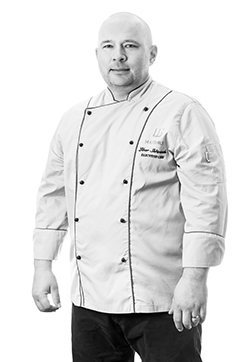 Libor Skřivánek
Executive chef
OUR EXECUTIVE CHEF RECOMMENDS
NABÍDKA RESTAURACE
BOOKING
Don't hesitate to try our cuisine! You can also make a booking.
+420 603 459 172  RESTAURACE@MAXIMUS-RESORT.CZ

BREAKFAST
A breakfast buffet is available every morning from 7.00 until 9.00 AM (and from 7.00 until 10.30 AM at weekends). We serve fresh fruits, vegetables, white and whole-grain bread and baked goods, smoked produce, dairy products and nuts, as well as a wide selection of home-made sweets and some egg specialities prepared at your request. We source our eggs from a local farm, as their fine colour and taste will testify. We also think of customers with dietary restrictions and we seek to offer them as much as we can.
The breakfast is included in the room price. Diners who are not staying at our hotel are also welcome: the price is CZK 400 per person in this case.
BREAKFAST MENU SERVED IN YOUR ROOM
We aim to offer services that will please you. Therefore, you can enjoy our excellent breakfast in the private comfort of your room or suite. A good and proper breakfast is the basis for your day. For guests staying in Deluxe plus rooms and suites, we offer – besides our standard hotel breakfast – also our very popular breakfast menu to be enjoyed by guests who simply want something more. You can choose from five delicious breakfasts: SWEET BUT HEALTHY, GOURMET EXPERIENCE, HEALTHY LIFESTYLE, CHALLENGING DAY AND GREAT START.
LOBBY BAR
Come to our Lobby Bar to enjoy freshly-made lemonades, a vegetable or fruit squeeze, alcoholic as well as non-alcoholic cocktails, teas made from fresh ginger or mint, or our excellent Naber coffee. The Lobby Bar is open daily from 11.00 AM to 11.00 PM but can stay open until the early morning hours at your request.
GARDEN RESTAURANT
From the spring until the autumn, you can rent our Garden Restaurant situated behind the hotel. The closeness of nature, the beautiful garden and peace make this restaurant the ultimate place for your family celebrations, weddings or corporate events. The garden restaurant offers grilled meals, a wide selection of alcoholic and non-alcoholic beverages, Pilsner Urquell beer on tap as well as foreign and Moravian wines. The capacity is 60 persons and the Garden Restaurant must always be booked in advance.
BOWLING BAR
Bowling can be stylish, too – our bowling venue was built based on exactly this assumption. We have set up a place for 60 people where anybody is welcome regardless of age, physical abilities or gender. Our bowling bar is equipped with four Brunswick tracks, TV screens, toilets, a restaurant and bar with a wide selection of alcoholic and non-alcoholic beverages. It is the number-one place for afternoon leisure or informal meetings, private events, parties and bowling tournaments. More about bowling.
BEACH BAR HŘÍBEK
Imagine that you are sitting on the beach, sipping an amazing drink and watching the sun's rays reflected on the water. You might assume that this is a holiday by the sea. You are right, but you actually don't need to cross the border. Why? Because we opened a place for you where your everyday stress vanishes and where you feel like you're on a real holiday. This place is the BEACH BAR HŘÍBEK situated only a few metres from the hotel on the Brno Reservoir beach. More about Hříbek.