Romantic and peaceful environment of Brno dam in connection with the well-known Maximus Resort – that is just the place made for the Queens of treatments. Only the best in facial treatment awaits you in our Boutique Salon, presented by the Queen of cosmetics, LINDA MEREDITH, and also the world-renowned foot and hand treatment by MARGARET DABBS LONDON.
"Each of your visits makes us happy, because we love what we do and we love when we can share it."
SUMMARY OF THE BOUTIQUE SALON MAXIMUS OFFER  
Cosmetic treatment Linda Meredith
Complex cosmetic treatment Haute Couture, tailor-made to your skin needs.
Oxygen therapy for deep cell regeneration.
Hyaluronic and Collagen therapy for a start-up of healing processes in the skin.
Express treatment for immediate sensation of natural beauty.
Skin diagnostics; if interested, there is an option of a long-term plan and guidance of the client how to deal with possibly troubled parts.
Foot and hand treatment by Margaret Dabbs London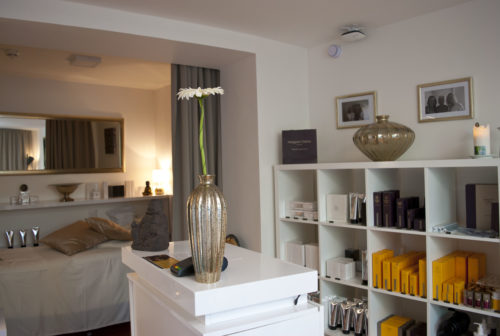 Ritual of Supreme pedicure and Supreme manicure for your health, vitality and nourishment. Besides beautiful feet, the ritual is connected with deep relaxation and purification.
Other services in the form of Nail Spa nail treatment and express variants of both hand and foot treatments.
Foot diagnostics; if interested, there is an option of a long-term plan and guidance of the client how to deal with possibly troubled parts.
Relaxation treatments
Detox foot baths.
Relaxation methods: Chakra foot treatment, Access Barss.
ABOUT THE COSMETICS QUEEN, LINDA MEREDITH
Linda Meredith has worked in the cosmetic industry for more than 40 years. Within years, she observed dramatic changes in peoples' skin and she got concerned with causes of these changes. The whole concept of the care and each of her products are based on an internationally unique formula and the aim of each product is to bring skin into balance again.
Linda Meredith care enjoys the best reputation. List of her clients worldwide can be compared with Hollywood red carpet display. Same as these world-famous celebrities believe that Linda Meredith care is the best, also we share this confidence and in Boutique Salon Maximus, we provide treatments by therapists trained directly by Linda.
ABOUT THE HAND AND FOOT TREATMENT QUEEN, MARGARET DABBS LONDON
Margaret Dabbs London is a unique top hand and foot skincare.
The products gained many international awards both in the world of professionals and in the world of lifestyle magazines. They uniquely combine high quality, luxurious care and medicine efficiency. The aim was to create products that look and mainly work differently than anything before. The products' ingredients provide deep hydration, work as antimycotics and anti-inflammatories and most of the products have strong anti-aging effects. At the same time, you are getting a feeling of luxurious treatment with aroma-therapeutic scent of geranium or tangerine.
You can experience Margaret Dabbs London and Linda Meredith treatments in the most beautiful resorts or spas in the world – and now, also in Boutique Salon Maximus.
WHAT YOU SHOULD KNOW
Boutique Salon Maximus is open the whole week, including weekends.
Please make your treatment reservation in time, especially if you require rather less usual time (early in the morning, later in the evening).
Lighter diet and enough fluids are recommended before the treatment. The body has got more energy to start up healing processes and after-regeneration.
We always discuss the treatment with you on the spot. We are able to adjust the service ordered by you according to your requests on the spot.
Before the treatment, please inform us about your health conditions or cosmetic facial procedures (laser, lifting, fillings, medication, etc.). We will adequately adjust the treatment protocol.
During the treatment, you will be offered refreshing filtered water O-Original Maximus, eventually coffee or a glass of sparkling wine.
If your program allows it, give yourself some extra time to rest after the treatment.
You can visit the Boutique Salon also as a couple. The space intimacy and the therapists' mood may create an oasis where you will spend pleasant time in the company of someone close and you will spoil yourselves with beautiful treatments at the same time.
RESERVATION
+420 702 830 774 INFO@BOUTIQUE-SALON-MAXIMUS.CZ
You can see the complete price list HERE.