WE LIKE WHEN THINGS SENSE
Feng Shui principles in our hotel are applied in such way that even in details they are natural and unobtrusive yet have even stronger effect. Our goal during your stay is to bring you comfort, calm, relaxation, satisfaction, creative power and the right decisions.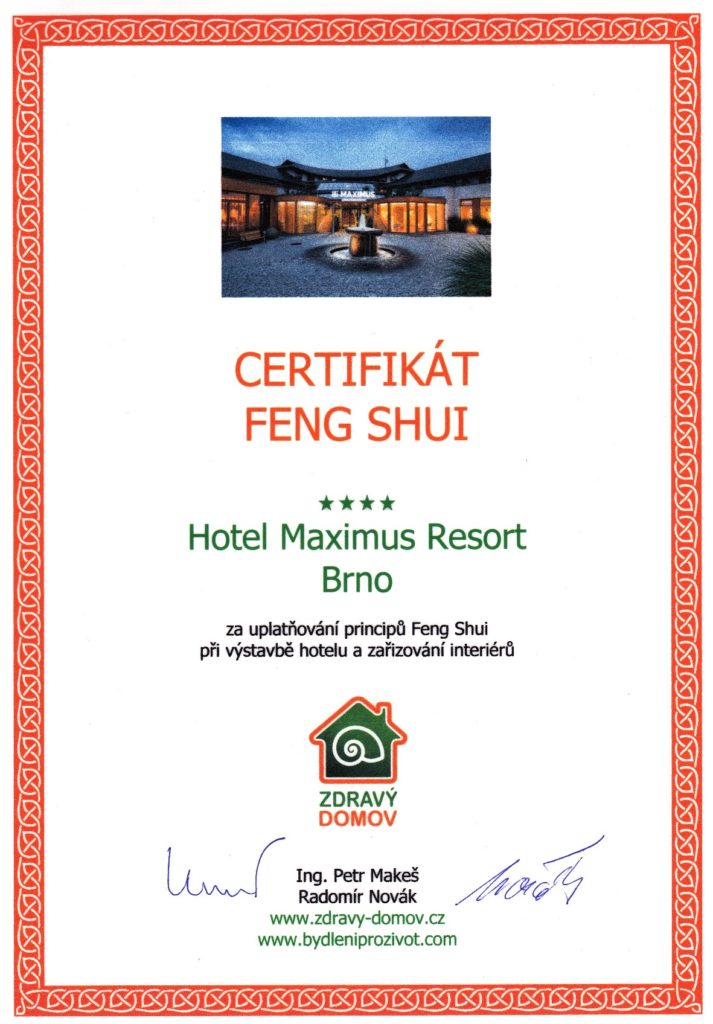 The basis of Feng Shui is a life-giving and vitalizing force, called Qi, Orgon, Ether, etc.. It is the foundation and the cornerstone of our mental and physical health. Properly applied and harmonized with our living space it introduces harmony, vitality and inner peace. It encourages us to live, brings optimal dynamics into the environment and encourages creativity.
Maximus Resort is situated in the countryside so that individual buildings create imaginary "Horseshoe" facing to the Brno Dam and the driveway. From around there an undulated and properly shaped landscape directs the life-giving energy directly to the hotel. This energy is amplified in the center of the complex – a stone fountain made from massive blocks on a circular entrance square. The energy turns around the fountain and becomes an energy vortex which sends it throughout the whole complex and accompanies our guests at every step. In this midpoint arises a strong vital spirit of the place, a genius loci.
Feng Shui in the hotel is applied in many other cases. Apart from the unique fountain there are also the pleasant shapes of buildings or the entrances themselves that invite guests inside. Upon your entry into the hotel you are welcomed in an attractive reception area, designed to encourage positive mood. Then there is the exceptional wellness Infinit Maximus, which is located at the best spot of the whole resort. There is even a wonderful outdoor pond with waterfall that according to Feng Shui brings prosperity to the whole hotel and all guests.
GUESTS AND THEIR CHOICE
If you stay with us overnight, you can choose from several types of rooms, which have their own distinctive kind of energy. It depends on the purpose of your stay.
Do you come for health, new ideas, creativity or personal growth?
Then we recommend rooms with a higher element of WOOD. Labeled with Trees and woods plants.
Rooms: 1. Floor (105 – 116), 2. Floor (205 – 216), 3. Floor (303 – 309)
Are you looking for a rest, a pleasant contemplation, a care or do you want to boost the relations in the family or with your customers? We suggest our rooms with a higher element of EARTH. Labeled with precious stones.
Rooms: 1. Floor (117 – 125), 2. Floor (217 – 225), 3. Floor (310 – 318)
Are you coming to us because of business, to get to the successful end, for a clear settling of your thoughts, to fine-tune a comprehensive concept or a company organization? We would recommend rooms with a higher element of METAL. Labeled with precious metals.
Rooms: 1. Floor (101 – 104), 2. Floor (201 – 204), 3. Floor (301 – 302)
THE INFLUENCE OF THE EIGHT DIRECTIONS ON YOUR LIFE
Sectors defined in Feng shui influence our lives and therefore it is very important how correctly are they arranged. If the life flows through them, if they are clean, and if they are harmonized and cared for then everything is all right. But when it happens that some sector is completely missing, it can lead to a lack of certain life's aspects. But if you correctly apply the principles of Feng Shui, you can rebalance and re-harmonize it.
NORTH SECTOR – WATER SECTOR – SECTOR OF LIFEWAY AND CAREER
This sector in general supports communication, business success, contacts, professional and mental growth, real life role, sexual life and also intuition and art. In this sector of our hotel you will find the RECEPTION, 3* accommodation and part of the congress halls, where it supports communication with the clients. In the case of congresses, lectures and business meetings it influences the depth of our thoughts, ability to compose an comprehensive picture and in case of accommodation the water sector supports good calm sleep.
NORTHEAST SECTOR – EARTH SECTOR – SECTOR OF KNOWLEDGE
This sector increases inner knowledge, wisdom and pronounces nature. It is a sector of personal growth and competitiveness. In this sector of our hotel there is part of the 4* accommodation and also our popular Wedding glade.
EAST SECTOR – WOODEN SECTOR – SECTOR OF A FAMILY AND HEALTH
This sector supports good and quick start in employment and business, higher activity and team work. It is connected with the respect towards parents and superiors, with health and acquired experience. In this sector of our hotel you will find the WELLNESS INFINIT MAXIMUS and a part of the   4* accommodation. There is also the amphitheater. The wooden sector enlivens the hotel and gives it the dynamics and life.
SOUTHEAST SECTOR – WOODEN SECTOR – SECTOR OF WEALTH
Southeastern direction is connected with material and spiritual wealth. The significant active water element in this area promotes financial gains and also the well-being, the inner happiness and healthy confidence. In this sector of our hotel you can find a part of the WELLNESS INFINIT MAXIMUS and part of the 4* accommodation. Similarly as the eastern sector it promotes everything that lives, grows and is young.
SOUTH SECTOR – FIRE SECTOR – SECTOR OF PUBLIC RECOGNITION AND RENOWN
This sector encourages active social life, attention and public recognition, renown, image, passion, entertainment and the joy of life. In this sector of our hotel you will find the inner saunas, the pool and the sun terrace. A centre for gathering of people which leads to social amusement, peace and fun.
SOUTHWEST SECTOR – EARTH SECTOR – SECTOR OF RELATIONSHIP AND PARTNERSHIP
This sector supports good relations between people at home or in a company, it influences friendship, marriage and family harmony. Southeastern direction is the main area caring for female and motherly energy. In this sector of our hotel you will find the hotel entrance with the view of the dam and the meandering driveway, which brings the earth energy promoting the family peace of our hotel guests during their rest.
WEST SECTOR – METAL SECTOR – SECTOR OF CHILDREN, CREATIVITY AND FINANCE
This sector promotes creativity, relaxation, romance, rest and the loosening up after work. As a metal sector it governs the multiplication a creation of finances. In this sector of our hotel there is RESTAURANT MAXIMUS, which brings calm and success during business meetings and other experiences.
NORTHWEST SECTOR – METAL SECTOR – THE SECTOR OF WISDOM AND RESPONSIBILITY
This sector is the main male sector. It promotes organization skills, leadership respect, trust, responsibility, and wisdom. It is a sector of supportive friends. In this sector of our hotel you will find the congress halls and the RESTAURANT PORTUM. There the metal element encourages the calm during the meal and supports good digestion. In the case of the congress halls it helps with the establishing of beneficial business and sponsor relationships, supports the precise training of a system issues and provides the protection to a given theme.
CHOOSE A ROOM TO MATCH YOUR WISHES